OC Handwriting - About
Employs Handwriting Without Tears® certified handwriting specialists. These skilled and experienced individuals are passionate about teaching your child good handwriting habits.
Kathryn Majewicz, owner of OC Handwriting is a Certified Handwriting Specialist in Orange County, California. She has received her training and certification in the Handwriting Without Tears ® Pre-K through 5th Grade curriculum as well as in the administration of the Print Tool™ Assessment. Kathryn is a retired occupational therapy assistant and a former member of The American Occupational Therapy Association and The California Board of Occupational Therapy. Kathryn has successfully worked in Orange County for over 15 years with children, teens, and adults with special needs and learning disabilities. In addition to working in various school districts and colleges she was featured on KTLA News discussing the importance of legible handwriting for life-long success, and in The OC Family magazine and The Newport Beach Daily Pilot.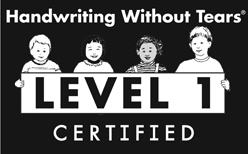 Contact (714) 875-2474 or use our contact form for further information. OC Handwriting uses the award winning Handwriting Without Tears® curriculum helping children and adults in handwriting throughout Southern California.